BONKERS mural
Collaborated with Grainbin on a mural project "BONKERS" as part of Street Meet public art festival (2017). It was a mix of spray-paint and wheat pasted pattern.

BONKERS mural
BONKERS mural
our mural project spilled off the wall into the surrounding neighborhood.
Peep Hole exhibition
In 2015 BAM artist collective built a room inside of our gallery space as part of Nuit Blanche. Rather than art on the walls we constructed artworks and performances inside the walls. Guests were engaged by viewing the 20 varied works through small peepholes cut into the walls.
Peephole: David's Room
one of the peepholes that I designed. Hand drawn patterns on foam-core.
TBA Project Space Residency at AKA Artist Run Centre
in January 2016 I was an artist in residence in the project space at Aka Artist Run Centre, Saskatoon. I made the space into a mad workshop filled with in-process artworks, materials and an all-over patterned mural.
TBA Project Space Mural Section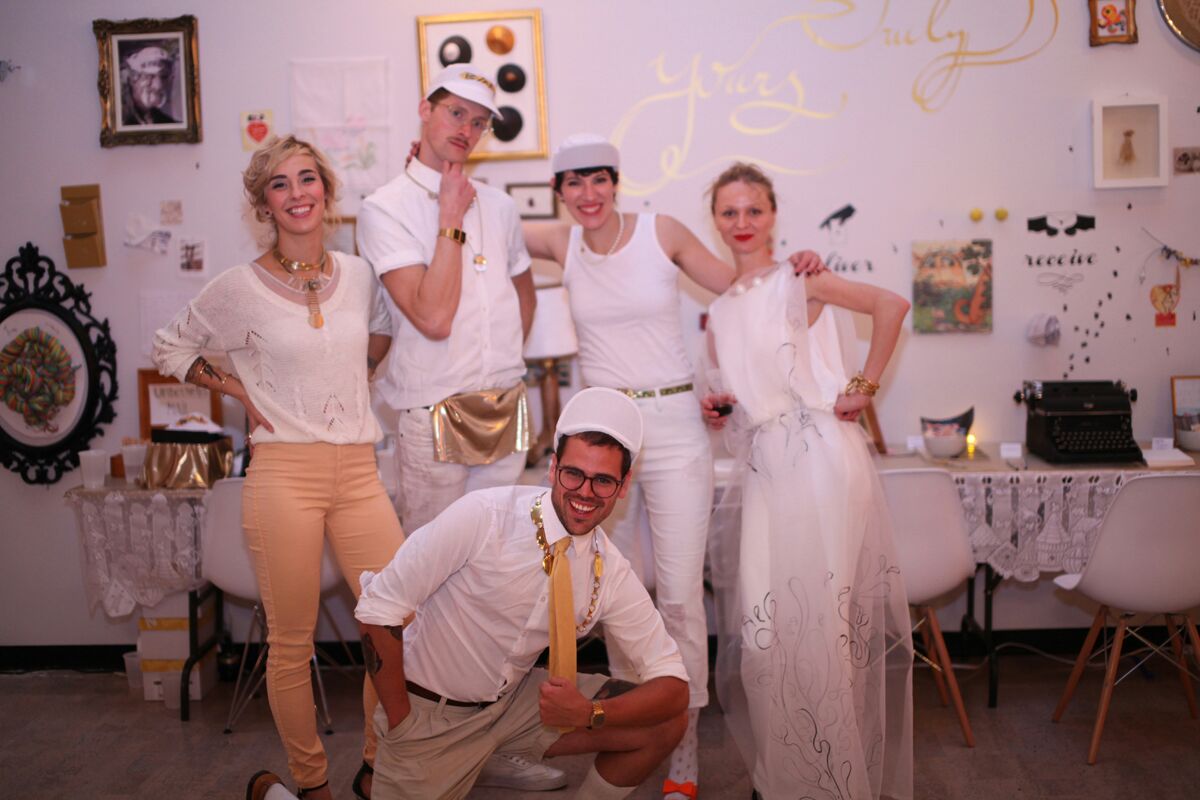 BAM collective: Yours Truly Project
Yours Truly, Lugo Project
BAM artist collective conducted a project / social experiment with guests of the Mendel Art Gallery's Lugo Gala. Guests were numbered, and invited to write a letter to an anonymous person. Once finished, they became a messenger to deliver someone else's letter the person with corresponding number. Strange and exciting social interactions developed between guests delivering, receiving and penning letters to one another.
Wild and Free exhibition
I curated a show "Wild and Free" with artist Jon Vaughn, Grainbin, Devon Hanofski, Mike Handson, Jordan Danchilla, and myself at BAM Gallery space. Artist played their work off each others in this space to create new discussions between work.
Wild and Free
Works (L>R): Grainbin, Jon Vaughn, Jordan Danchilla, Devon Hanofski, and David Stonhouse
Wild and Free
Works (L>R): Jordan Danchilla (above), David Stonhouse, Jon Vaughn.
Foresight at BAM gallery space
Was part of Cynthia Blanchette's "Foresight" exhibition featuring artists Cynthia Blanchette, Diana Chisholm, Alexa Hainsworth and myself. I painted traffic cones, barricades, caution signs and roof details.
Foresight
detail of Cynthia Blanchette's painting and floor mural with one of my painted barricades.
Feedback Loop
in 2016 I collaborated with analogue video artist, Colby Richardson, as part of "Immersive Spaces" exhibition at AKA Artist Run Centre. Part video, part painting these pieces mimicked both artists work with a trompe l'oeil effect.
BAM artist collective= Front Page News!
BAM Star Phoenix Article Cont'd
BAM...is becoming
BAM went corporate when the Remai Modern asked the artist collective to do something for their live program series Turnout. BAM...is becoming is a tongue in cheek artist version of a corporate retreat complete with a CEO powerpoint, growth charts, icebreakers, personality tests, group challenges, breakout brainstorming sessions and cake!